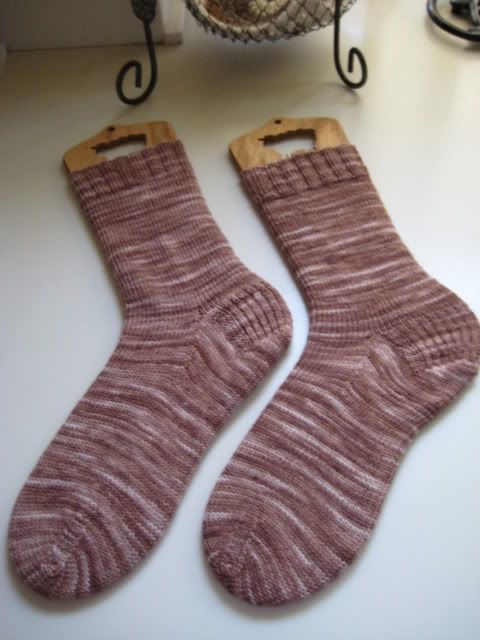 Here are my completed socks knit using Claudia's Handpainted yarn which I purchased from Simply Socks. I used size 2 dpns and knit them both at once so as to keep each modification I did uniform. I really enjoyed knitting with this yarn as it's very reminiscent of Koigu sock yarn and I especially love the feel of the somewhat 'squishy' yarn as it becomes a sock and the cabled effect it gives my work. I needed a pair of socks in brown tones to wear with my fall colors when the time comes because I have all manner of blues, purples, oranges, and even pinks, but alas, until now, no browns. I'm glad they're completed though because it seemed to take forever to finish these babies and I just about made it, yarn wise, and was left with only inches of each skein!
I'm waiting to get some ice blue yarn in order to complete a granny square baby blanket I'm crocheting. I didn't get very far because I ran out of the blue, but it's going to be done in 2 colors, white and ice blue, and NO, there are no announcements for a new grandchild, I'm just trying to get a jump on things because I know there will be another grandbaby on the way one of these fine days. I do like crocheting this pattern (the Rasberry Granny Ripple on Ravelry) and when I'm finished with this one, I'm going to do another baby blanket, but this time knit, in either a basket weave or with two strands held together in another stitch. I'll probably knit this one in some sort of pink combos for the obvious reason. :)
The only other news I have as far as my knitting goes, is that I finally gave in and bought a set of Signature dpns after having read how much my online pal, Kathy, loved them. I got a size 2 set in red and at first I didn't care much for the very pointy tips but after knitting one of the socks above with them, I got into the groove and didn't poke myself as often as I did and first, and now I have to say that I do like them very much. They come in especially handy when doing the heels and picking up because of the tapered tips, so if any of you are considering the purchase, although they're awfully expensive, I think you wouldn't be sorry and you'll have these steel babies forever!